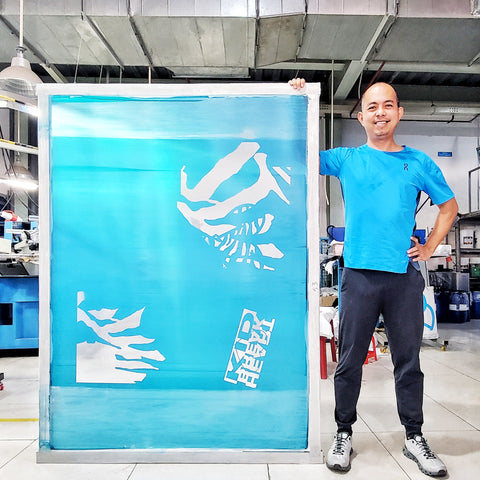 All Over Screen Printing
INTRODUCTION

All over printing has appeared since the early 1990s, with t-shirt merchandise of DC Comic, Marvel, Disney... printed with characters.
Then, the all-over shirts were printed with images of singers, rap groups, and rock groups in plastisol ink. These specially printed t-shirts are still sought after by collectors with prices ranging from a few hundred to more than $1,000.
Aothun.com, a fan of these special printing techniques, has researched, improved, and renewed the all-over printing method to achieve as many results as it is today.

DIFFERENT SOLUTION WE PROVIDE

- Because we are active in fabric production, cutting, printing, sewing in-house, we can:
- Produce and print all over with quantity from 50-5,000 pcs/design.
- Our print size is up to 90cm * 130cm.
- The maximum number of silkscreen printing colors is 7 colors.
- We can print DTG roll to roll, cut and sew exactly the pattern positions on the bodice and sleeves.
- Especially, we can print 360-All-Over-Printing: the print can be seamless from the front body, through 2 hands, back body and even the collar.
- Zero-Feeling ®: is a special experience that we bring to our customers when using our all over print products. We use discharge inks instead of traditional plastisol inks, so
1. Sweat can easily seep through the print, providing a cool feeling to the wearer, even when the print is full body.
2. There is no rough feeling of plastisol ink to the touch at all, instead it is a soft feeling like a place without a print.
3. The product is soft washed after printing, so the colors are harmonious, the ink blends deeply into the fabric, creating a high-class fashion product.

TYPES OF PRODUCTS WE CAN DO ALL OVER PRINTING

- We can print seamless through the seam with super weight fabrics such as Single Jersey 280gsm and French Terry 460gsm.
- We can print all over for most fashion products such as: t-shirt, polo shirt, shirt, hoodie, full zip hoodie, sweater, jogger, and short.
Inspiration
Due to the security of customers' images and designs, we collect on the internet the products we can produce for your reference.